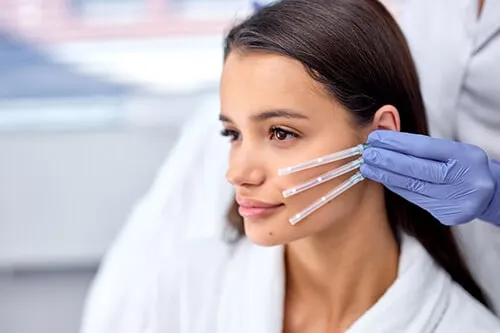 What is HD- PDO Thread Lift?
Age, environmental exposure, and gravity all contribute to our skin losing its original elasticity, causing it to develop wrinkles and folds. Until now, plastic surgery was the only option for lifting sagging skin. However, recent technologies have provided us with a new, nonsurgical solution to help the signs of aging. Proven to be one of the most biocompatible materials in the medical industry, PDO (Polydioxanone) threads are a new range of absorbable surgical suture, specifically designed to lift, reposition, and revitalize tissues of the face and body. They are manufactured in Italy under strictest standards and are cleared by the FDA. Due to their high density, they dissolve slowly over time stimulate collagen production and provide long-lasting results.
The Science of HD-PDO Thread Lifts
HD-PDO Thread Lift procedures allow for a rapid lifting of the skin with immediate improvement and long-lasting results. Every face has a unique geometry to it. The HD-PDO Thread Lift is designed to provide an individualized, personalized pattern that elevates, lifts, and contours your aging skin to help recreate and rejuvenate the organic shape of your face. The thread is inserted into the skin, stabilizing and lifting the skin from the inside. As the threads dissolve slowly over time, they stimulate fibroblasts to produce collagen and other proteins. This essentially strengthens the skin from the inside while providing direction to the lifting effect.
You are a good candidate!
Almost anyone can be a candidate for an HD-PDO Thread Lift. This procedure is suitable for individuals with early signs of aging, since it can slow down the aging process. Individuals with more advanced aging who don't want to undergo more drastic surgical procedures are also candidates, as the lift will help improve elasticity, increase collagen production & minimize other signs of aging.
Conditions that may be improved by HD-PDO Thread Lift include:
Forehead & frown lines
Drooping brows
Sagging jowls & drooping cheeks
Lip lines & thinning lips
Creases at the corners of the mouth
Marionette lines
Deep wrinkles & furrows
Neck bands
Any other area of the body that might need lifting and smoothing.
You are not a good candidate if:
Though this is an extremely safe procedure, there are certain conditions that may prevent you from undergoing an HD-PDO Thread Lift:
Allergies relating to PDO sutures
History of Keloids and predisposition to hypertrophic scarring
Certain autoimmune of inherited diseases
Bleeding disorders or ongoing anti-coagulant medication use
Any active uncontrolled medical condition
Malignancy and/ or chemotherapy
Active infection including uncontrolled acne, Hepatitis B&C, and HIV
Pregnancy or breast-feeding
Previously implanted permanent fillers
Before the Procedure
Talk to your doctor about any questions you may have or your expectations for this treatment. Inform the doctor of any prior treatments you have undergone and of any medicines you are currently taking. Avoid blood-thinning medicines and vitamins at least one week before and after treatment. Check with your PCP if you can temporarily stop these blood thinners. Application of HD-PDO threads must be performed by a physician/ Practitioner or registered nurse who has undergone the specific training for these threads. For your comfort, your doctor may use topical anesthesia. You may experience mild discomfort during and after the procedure.
Post-Treatment Recommendations
Apply ice packs immediately after the procedure. You may be asked to apply ice or a topical cream several times a day for 1-2 weeks. You may also be instructed to use antiseptic medication on the entry areas of the threads in certain cases. Take acetaminophen 2-3 times a day for pain and discomfort, if needed. If you experience itching, you may take antihistamines such as Claritin. When washing your face, do not rub or massage it. Use your fingertips and pat dry. Be careful while washing your face for at least 5-7 days. Do not apply makeup until the next day or as directed. Sleep face-up in an elevated position for 3-5 nights. Do not perform any excessive facial or neck movements for at least 2 weeks. Avoid sports or rigorous exercise for 2 weeks. Avoid excessive sun exposure. Depending on the area treated, it may be recommended to wear an elastic bandage for an estimate 2-3 weeks. If you experience any unlisted side effects including but not limited to high fever, increasing levels of pain, redness, swelling or other unnatural sensations, contact your doctor immediately.
HD-PDO is the original technique which designs tailor-made pattern based on your anatomy and desires! Our clinic is a certified HD-PDO provider!
Please follow and like us: