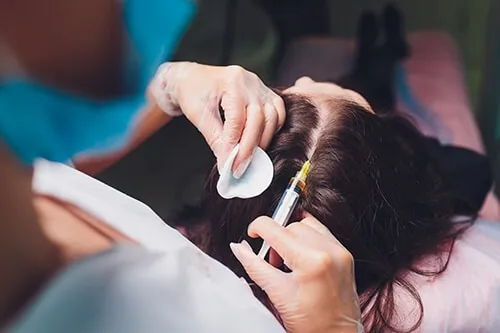 Glow Laser & Beauty Center has several options for restoring your natural hair, helping you to be more confident, comfortable, and look younger.
Supplements
Nutrafol: This clinically tested supplement contains multiple natural ingredients designed to target hair loss by addressing micro-inflammation, and oxidative damage. The proprietary blend is available for purchase and can be less expensive than sourcing the individual supplements separately.
Medications
Finasteride (Propecia): Since 1997 this medication has been FDA approved for male pattern baldness. Numerous studies are available demonstrating benefit in men due to its hormone effects.
Minoxidil (Rogaine): This medication was first studied as a possible blood pressure medication. With the improved blood flow patients developed significantly increased hair growth and a topical application was first formulated. Oral treatment is also available
Minimally invasive intervention
Microneedling: Procedure performed to generate new collagen and improve blood flow. Following local anesthetic small needles are used to create a tiny micro-trauma in the skin. This has been successfully paired with other hair promoting therapies to stimulate new follicle growth.
Vampire Hair: A pioneering procedure which uses platelet rich plasma (PRP) to revitalize tissue. From a simple blood draw PRP can be isolated which is full of growth factors that trigger tissue regeneration and can be injected into the scalp for hair restoration.
Hair Transplantation
Using our state of the art Follicular Unit Extraction (FUE) system along with the HARRTS X-2 robotic microscope we can harvest thousands of individual hair follicles from one area on the body and move them to another. The robotic microscope analyzes healthy hair follicles and allows us to create a custom guide for use in planning your procedure. FUE uses micro-punches to extract individual hair follicles. Once healed this leaves behind almost no sign of extraction. These individual follicles can then be transplanted to any area of need and will continue to grow. This method has become the standard of hair transplantation leaving behind other outdated technology which led to the "hair plug" look.
READY TO LEARN MORE? CONSULTATIONS ARE ALWAYS FREE 833-456-9888 GlowLaserBeauty.com
Experience Trust Expertise          Get healthier, thicker hair, and more of it!
Please follow and like us: