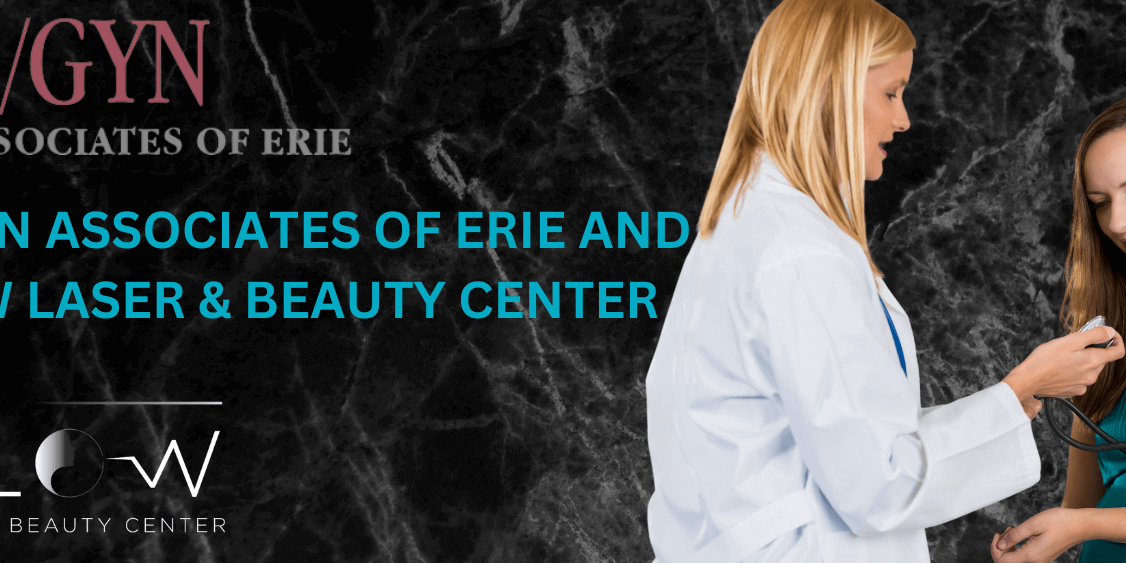 What makes Glow Laser & Beauty Center an obvious choice for patients of OB/GYN Associates of Erie?
Glow offers a wide array of services that include female rejuvenation and hormone replacement therapy. Women who are looking for more benefits above and beyond maintenance can look to Glow to help rejuvenate. Click the drop-downs to learn more about the services that Glow Laser & Beauty Center has to offer.
Female rejuvenation
What conditions can be treated?
Laxity (vaginal tightness)
Urinary incontinence (leakage of urine)
Dyspareunia (painful intercourse)
Excess tissue of appearance of labia
Loss of sensation
Evolve
Who can receive this treatment?
Post-menopausal women
Post-partum women
Pre-menopausal women who are seeking vaginal cosmetic correction
How do vaginal rejuvenation treatments work?
Electrical Muscle Stimulation (EMS) works to strengthen and tighten the pelvic floor muscles.
Radiofrequency (RF) sends gentle pulses of heat to increase blood flow and increase collagen production. This improves the tissue of the vaginal canal and can lift and plump the labia.
Platelet Rich Plasma (PRP) delivers your own plasma containing growth factors to the vagina, stimulating healthier vaginal tissue. This can help with sexual responsiveness (orgasm), painful intercourse, vaginal dryness, incontinence, and vaginal laxity.
Treatment options at glow:
Treatment options often work synergistically to deliver the best results.
Vtone – EMS device strengthens pelvic floor muscles to improve urinary incontinence
FormaV – RF device that improves local blood circulation.
Morpheus8V – Bipolar RF device that combines microneedling with RF
Aviva – A non-surgical labiaplasty. Reduces excess vulvar and labia tissue, tightens and tones, surrounding skin, increases comfort during sports and other physical activity.
DiVa – Hybrid fractional laser treatment that resurfaces the vaginal wall, replaces damaged tissue with healthy, new tissue to improve vaginal health.
O-Shot – Injection that utilizes your own platelet rich plasma to stimulate increased blood flow and generate more healthy, functional tissue in the areas of sexual response in the vagina. Benefits include: increased sensation, lubrication, decreased urinary incontinence, less pain during intercourse.
Please follow and like us:
Bioidentical Hormone therapy
Consult and lab review:
Initial Consult- $150
lab order/review and comprehensive treatment plan – $375
Comprehensive treatment plan will offer various treatment modalities which could include vitamins supplementation,
hormone replacement, creams, troches, or pellet placements
If pellet placement is recommended, initial and booster pellet Insertion – $475
Labs:
Further targeted labs will be required intermittently to assess the response to therapy. Lab orders will be sent to an outside facility for collection. Patient will assume responsibility for any cost associated with these labs in addition to the cost of any treatment. You are welcome to have the labs run through your insurance company. Lab orders will be generated with diagnosis codes that can be used to request insurance coverage for the test. Insurance coverage varies by plan. Even with coverage you may receive a bill. This bill is based on the scope of your insurance plan and deductible.
Follow Up Appointments:
Depending on the complexity of your care an appointment may be required every 3-4 months.
Follow up appointments are $150.
The follow up fee is waived if pellets are being inserted. Fees for pellet insertions are:
Signs and symptoms of hormone imbalance:
Fatigue
Weight gain/mid-section
Mood changes/irritability
Dry skin/hair/nails
Sleep disturbances/ insomnia
Loss of focus
Low libido
Hair loss
Heat/cold intolerance
Hot flashes/night sweats
Vaginal Dryness (women)
Irregular menstrual cycles (women)
Interested in package options & special pricing? Check out our app (glowlaserbeauty.repeatmd.com) to see details plus more!  
Please follow and like us:
Looking for more information on special pricing, memberships, and our free rewards program?
For more information, you can contact us via phone or text at 833.456.9888 or by email at
Please follow and like us: