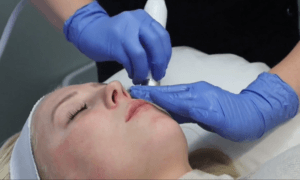 AQUAGLOW FACIAL
AquaGlow Facials are Glow Laser & Beauty Center's way of treating and pampering your skin to give it a refreshing and cleansing look and feel. This 1-hour facial includes customized products based upon your skin type to help rejuvenate your face and restore your glow!
Benefits:
Cleanses, exfoliates, and hydrates with the use of suction and multiple products based upon your skin and skin concerns.
Radio frequency produces collagen and elastin.
A facial massage helps improve blood flow and relive stress.
Other facial treatments typically provide only 4 steps and last 30 minutes.  Give your skin the time and attention it deserves with an AquaGlow Facial…your face deserves it!
Have any Questions?