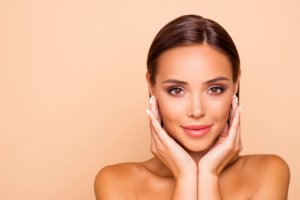 Basic: 
Cleanses hydrates and exfoliates.
Age-Defying: 
Uses products and techniques to help reduce the appearance of aging.
Acne: 
Uses products and techniques to help reduce acne.
AQUAGLOW: 
Deep cleansing of the skin that includes radiofrequency to stimulate collagen & elastin production. Skin is cleansed, exfoliated, and moisturized.
Little Miss Facial and Mommy & Me: 
Little Miss Facial includes giving a facial to a little one! It cleanses, masque, massages, moisturizes, and chooses a yellow or blue headband.
Mommy & Me: Mommy gets an AQUAGLOW facial and the little Miss or Mr. gets a Little Miss facial or the opportunity to give their mommy a facial.
PEELS 
Pro Salicylic Acid: 
Used to treat acne and visibly reduces pore size.
Chemical Peels: 
Chemical peels have many uses such as improving skin texture and tone through exfoliation.
SEASONAL STIMULANTS
Summer: 
Blueberry, Arctic Berry
Fall: 
Yam & Pumpkin, Mangosteen
Winter: 
Chocolate Mousse, Snow Mushroom
Spring: 
AHA Fruit Plump, Licorice Root
ADD-ONS
 Massage: 
Enjoy a hand and arm massage during the masque portion of your facial.
Dermaplaning: 
Exfoliates by taking off the top layer of dead skin and reduces peach fuzz.
Led Light Therapy: 
Red: treats inflammation, discoloration, stimulates blood flow. Blue: kills acne causing bacteria.
Eyebrow Tint: 
Darkens eyebrows to enhance them. Choose brown, black, or dark black.
Eyelash Lift and Tint: 
Curls and darkens eyelashes lasting up to 2 months.
Lip Treatment: 
Exfoliates, plumps, and hydrates.
Aromatherapy: 
Essential oils for therapeutic benefit
Have any Questions?