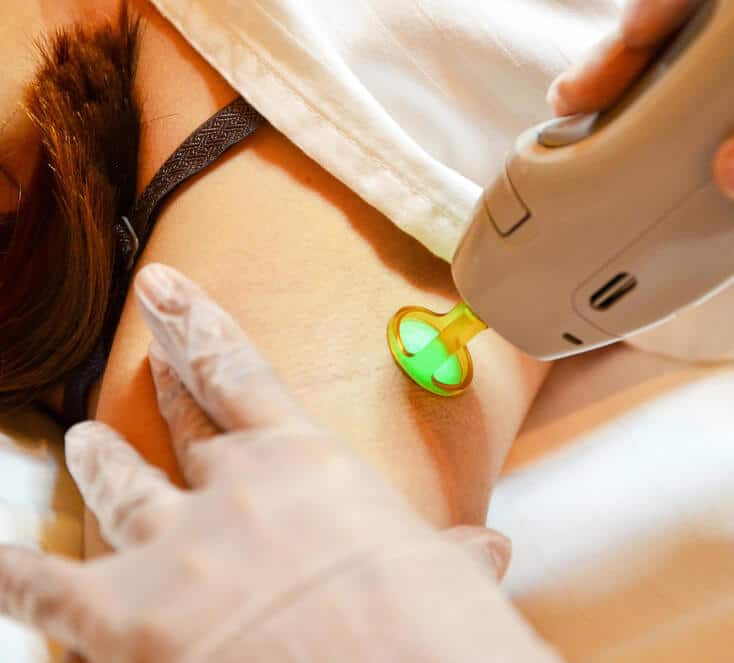 Forever Bare BBL (Laser Hair Removal)
BBL (broad band light) is a safe and proven treatment that takes hair removal to the next level.
Treat any area of the body with unwanted hair to reveal beautiful skin and dare to bare soft, silky, supple skin! Forever Bare BBL provides a treatment that is safe, fast, efficacious, and comfortable. The motion BBL technology allows for extremely even heating of hair follicles and minimizes missed areas that occur with traditional hair removal devices.
Most hair removal devices target only one area at a time. Forever Bare BBL sends multiple lower pluses at a high repetition rate. Repetitive rates provide a treatment that is safe, fast, effective, and comfortable.
Forever Bare uses a thermoelectrically cooled sapphire plate on the handpiece that provides continuous cooling. This plate keeps the skin comfortable during treatment.
Forever Bare BBL is safe. The device sends out energy in multiple bursts instead of all at once; this protects the skin.
Forever Bare BBL raises the follicle temperature to the therapeutic level for hair removal.
There are multiple spot-size adapters that the therapist can use to treat large areas quickly and small areas with precision.
Smoothie adapters soften the edges of the treatment head to make the treatments comfortable when using motion.
The Forever Bare BBL has different temperature settings that can be increased gradually. Gradual heat keeps your skin protected with cooling as the Bare BBL gently removes unwanted hair. Forever Bare BBL can effectively treat any skin type.
Studies have shown results are long-lasting, and you can resume your normal activities immediately after the treatment. The average treatment time for a full face is about 15 minutes, and you can use Forever BBL on your face, neck chest, arms, and hands.
Have any Questions?